Axel K. Olmos
axresume2020@olmosconsulting.com
---
CRITICAL INFORMATION
Technology is my passion. Over 30 years of experience in engineering, creating, upgrading, and maintaining networked computing environments. I'm a one person Linux / UNIX IT department capable of self supervised work. Engineering, Automation, Alarming, Administration, Programming, Security, Backups. I do whatever it takes to make your environment efficient, secure, and reliable.

U.C. Berkeley Degreed Computer Engineer, Red Hat Certified Engineer. (2005-2014) Expert problem solver.

Excellent written / verbal communication skills. Customer Service personality. Works well in a crisis situation.
U.S. Citizen, born in Berkeley, CA.
OBJECTIVE
A position that uses my engineering skills to create and maintain Open Source technology solutions.

I have a home office setup that is ideal for work from home employment.
EDUCATION

University of California at Berkeley College of Engineering
B.S. Electrical Engineering and Computer Science
Specialized in Computer Science. Minor in English.

CERTIFICATION
Red Hat Certified Engineer ( RHCE / RHCSA ) #110-553-716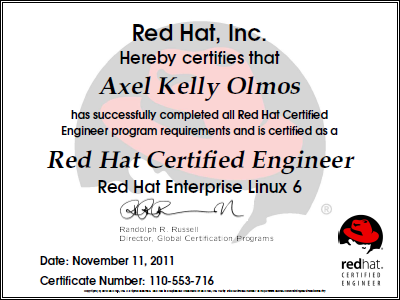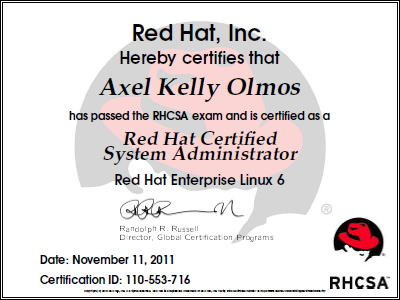 TechieGold Unix Administrator (Solaris) Master Certified #3053185


EXPERIENCE
09/2004 - ?/2020 Group One Trading, LP, San Francisco, California
Director of Linux / UNIX Systems:
Responsible for all Linux / UNIX servers at Group One Trading. Administrator for all CentOS / Red Hat HP servers and desktops running mission critical options trading software across multiple data centers. Set up corporate wide video conferencing system using Jitsi video conference software. Authored PumpedUp Open Source cross platform performance monitoring software, WebMTR interface for My Trace Route in JavaScript / Node.js. Implemented Nagios automated monitoring and alarming for all Windows and Linux servers, desktops, network devices, and services. Inherited development of internal Human Resources web site written in Perl / Mojolicious / SQL and augmented it with self creating Org Charts and Employee Directories including contacts for Android / iPhones. Created Kickstart infrastructure for hands-off builds of servers including Ansible, e-mail, GIT, Squid, ElasticSearch, Logstash, Kibana, Redis, DMZ, etc. ElasticSearch Cluster Engineering and Administration. Implemented backups utilizing custom written software as well as CommVault. Created HAProxy Squid servers to allow for monitored, fault tolerant corporate web access. Automated complex migration of Sun Solaris Informix DB server to HP Proliant DL580 Red Hat Linux server and solved Informix performance problem which hindered Group One. Created Linux Remote Head trading desktops used by traders on the floor with 16 monitors using Active Directory for authentication. Used Virtual Machines where appropriate to reduce our hardware footprint. Reengineered Cat 6A network cabinet layout and cabling during server room migration to eliminate wiring errors. Hired and trained Jr. staff.

8/97 - 8/04 Verizon Wireless, Walnut Creek, California
Team Lead UNIX Administrator:
Project Technical Lead responsible for Walnut Creek datacenter. Engineered, installed, and administrated production High Availability (HA) Sun Enterprise servers. Implemented two way short messaging system, followed by a multi-million dollar enterprise wide billing system both on Sun Hardware. Installed, configured, and was responsible for high availability Cisco 6500, Local Director, Sun V120, V210, V240, V440, V480, V880, 220R, 280R, 420R, E3500, E4500, E4800, E6500, L700, SS3510 and Netra T1 hardware. Installed and configured CheckPoint Firewall I. Installed and configured Samba. Worked with Veritas HA Software (VCS). Lead team of 5 other Senior Administrators. Implemented vzwnss.com DNS domain. Recruited, interviewed, and hired Sr. UNIX Administrators for my group. Responsible for 53 production, 24 X 7, mission critical HA servers. In 2003, began administering Red Hat Linux Servers running AS 2.1, AS 3.0, 9.X. Configured kickstart, attached to SAN, configured LVM, Multipath, etc.

3/97 - 8/97 Providian Bancorp, San Francisco, California Senior UNIX Administrator

11/96 - 2/97 Charles Schwab, San Francisco, California Change Management / Systems Administrator

2/96 - 10/96 Industrial Indemnity, San Francisco, California Central Systems Administrator

10/95 - 2/96 Kenetech Windpower, Livermore, California Senior UNIX Administrator

6/95 - 10/95 Sun Microsystems, San Francisco, California Systems Engineer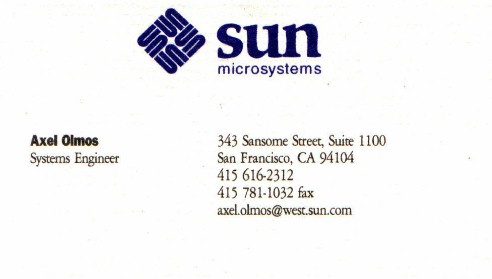 11/94 - 6/95 Charles Schwab, San Francisco, California Senior UNIX Administrator
3/94 - 11/94 Cirrus Logic, Fremont, California UNIX Administrator
6/92 - 3/94 Center for EUV Astrophysics, University of California, Berkeley Programmer/Analyst
6/91 - 8/91 Continuing Education of the Bar, University of California, Berkeley Software Assistant I
6/88 - 8/88 Chevron Corporation, San Ramon, CA Computer Operator