Axel K. Olmos
axelresume2023@olmosconsulting.com
---
CRITICAL INFORMATION
Technology is my passion. Over 30 years of experience in engineering, creating, upgrading, and maintaining networked computing environments. I am a one person Linux / UNIX IT department capable of self supervised work. Engineering, Automation, Alarming, Administration, Programming, Security, Backups. I do whatever it takes to make your environment efficient, secure, and reliable.

U.C. Berkeley Degreed Computer Engineer, Red Hat Certified Engineer. (2005-2014) Expert problem solver.

Excellent written / verbal communication skills. Customer Service personality. Works well in a crisis.
U.S. Citizen, born in Berkeley, CA. Vaccinated and boosted.
TECHNOLOGIES
| | |
| --- | --- |
| Operating Systems: | CentOS 5,6,7,8,9, Stream / Fedora / Red Hat Linux / Alma / Rocky, other Linux variants such as Ubuntu. Solaris / UNIX. |
| Backups: | Rubrik, Relax and Recover, CommVault, rsync |
| Cloud: | AWS, GCP |
| Clustering: | Redis / ElasticSearch / Logstash / Kibana / Hadoop / Ceph / oVirt |
| OS Install: | iPXE, KickStart, Terraform, cloud-config |
| Monitoring / Alarming: | Nagios and Pushover, Greenbone Security Manager |
| Performance Analysis: | Author of PumpedUP |
| Programming Languages: | Bourne / Korn / C Shells, Perl, Mojolicious, C, JavaScript, SQL. |
| Initialism / Acronyms: | Apache / DNS / HAProxy / HTTPS / KeepAlived / NIS / NFS / NTP / RAID / rsync / SMTP / SNTP / SQUID / SSH / TCP/IP |
| Virtualization: | KVM / oVirt / VMware |
| Visualization: | Grafana / Prometheus |
OBJECTIVE
A position that uses my engineering skills to create and maintain Open-Source technology solutions.

I have a home office setup with servers and redundant power / Internet that is ideal for work from home employment.
EDUCATION

University of California at Berkeley College of Engineering
B.S. Electrical Engineering and Computer Science
Specialized in Computer Science. Minor in English.

CERTIFICATION
Red Hat Certified Engineer ( RHCE / RHCSA ) #110-553-716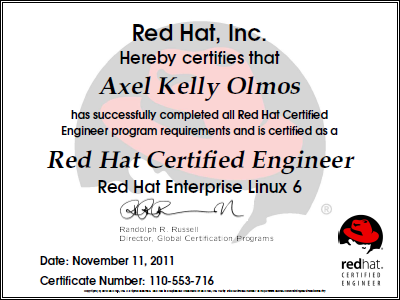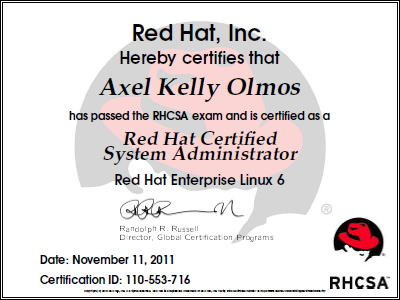 TechieGold Unix Administrator (Solaris) Master Certified #3053185


EXPERIENCE
3/2022 - Agiloft, Redwood City, California (Fully Remote)
Director of Linux Engineering:
Originally hired to be a Senior Linux Administrator for RedHat Linux servers, I was promoted shortly afterwards to Director with a team of 5 direct reports. Our Team engineered and administered the servers which provide Agiloft's Software as a Service, as well as associated Linux infrastructure both on premises and in the Cloud (AWS, Azure). These servers needed to meet SOC2 / ISO 27001 / FedRAMP compliance and be secure. Wrote Terraform / Bash automation to create AWS servers, including Nagios server with PagerDuty. Wrote Prometheus exporter in Python for Nagios alarms written in Bash.
1/2022 - 3/2022 Delta Dental, Oakland, California (Fully Remote)
Systems Engineer III (Contract):
Responsible for maintaining RedHat Enterprise LINUX (RHEL) in pre-production, production and disaster recovery environments hosted on premise and in Azure Cloud. Responsible for enterprise level designing, planning, implementing, and supporting LINUX/UNIX systems in a highly collaborative and fast paced environment. Duties include identifying and correcting performance issues, and providing support to applications developers, infrastructure teams, DevOps, and endusers. Involved in designing automated solutions, process improvement, server provisioning, Capacity and Performance Management, performance monitoring, software installations, technical assistance, server security management, hardware recommendations and procurement.
11/2021 - 12/2021 Cutler Group, LP, San Francisco, California (Fully Remote)
Systems Engineer:
Administration of Ubuntu Linux servers running on HPE hardware. Created iPXE server to do fully automated installation of Ubuntu 20, Icinga2, Hadoop Cluster, HPE SPP firmware updates, HPE Scripting Toolkit. Installed and configured ILO Amplifier Pack on VMware. Created automated PDU configuration expect scripts. Created Confluence documentation and Jira trouble tickets. Beginner level Ansible AWX administration and Git / GitLab usage.
09/2004 - 10/2021 Group One Trading, LP, New York / Chicago / San Francisco, California (Fully Remote)
Director of Linux / UNIX Systems:
Responsible for specification, purchase, creation, and maintenance of all Linux / UNIX servers at Group One Trading. Systems under my authority were CentOS Stream / CentOS 8 / Red Hat HP servers and desktops running mission critical options trading software across multiple data centers. Created and maintained completely automated installation, configuration, back-up and recovery of all Linux systems. Monitored Linux and Windows systems and services, Cisco networking equipment, UPS/PDU, security, patching, etc. 24x7 via Nagios and Pushover greatly increasing the reliability and stability of the entire firm. Created Kickstart infrastructure for hands-off builds of servers including Ansible, e-mail, GIT, Squid, ElasticSearch Cluster, Logstash, Kibana, Redis, DMZ, etc. Implemented backups utilizing custom written software as well as Rubrik, Relax and Recover, CommVault. Created HAProxy Squid servers to allow for monitored, fault tolerant corporate web access. Inherited development of internal Human Resources web site written in Perl / Mojolicious / SQL and augmented it with self creating Org Charts and Employee Directories including contacts for Android / iPhones. Automated complex migration of Sun Solaris Informix DB server to HP Proliant DL580 Red Hat Linux server and solved Informix performance problem which hindered Group One. Created Linux Remote Head trading desktops used by traders on the floor with 16 monitors using Active Directory for authentication. Used Virtual Machines via KVM / oVirt where appropriate to reduce our hardware footprint. Reengineered Cat 6A network cabinet layout and cabling during server room migration to eliminate wiring errors. Hired and trained Jr. staff.
8/97 - 8/04 Verizon Wireless, Walnut Creek, California
Team Lead UNIX Administrator:
Project Technical Lead responsible for Walnut Creek datacenter. Engineered, installed, and administrated production High Availability (HA) Sun Enterprise servers. Implemented two way short messaging system, followed by a multi-million dollar enterprise wide Oracle billing system both on Sun Hardware. Installed, configured, and was responsible for high availability Cisco 6500, Local Director, Sun V120, V210, V240, V440, V480, V880, 220R, 280R, 420R, E3500, E4500, E4800, E6500, L700, SS3510 and Netra T1 hardware. Installed and configured CheckPoint Firewall I. Installed and configured Samba. Worked with Veritas HA Software (VCS). Lead team of 5 other Senior Administrators. Implemented vzwnss.com DNS domain. Recruited, interviewed, and hired Sr. UNIX Administrators for my group. Responsible for 53 production, 24 X 7, mission critical HA servers. In 2003, began administering Red Hat Linux Servers running AS 2.1, AS 3.0, 9.X. Configured kickstart, attached to SAN, configured LVM, Multipath, etc.

3/97 - 8/97 Providian Bancorp, San Francisco, California Senior UNIX Administrator

11/96 - 2/97 Charles Schwab, San Francisco, California Change Management / Systems Administrator

2/96 - 10/96 Industrial Indemnity, San Francisco, California Central Systems Administrator

10/95 - 2/96 Kenetech Windpower, Livermore, California Senior UNIX Administrator

6/95 - 10/95 Sun Microsystems, San Francisco, California Systems Engineer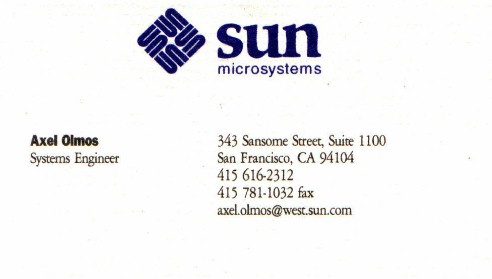 11/94 - 6/95 Charles Schwab, San Francisco, California Senior UNIX Administrator
3/94 - 11/94 Cirrus Logic, Fremont, California UNIX Administrator
6/92 - 3/94 Center for EUV Astrophysics, University of California, Berkeley Programmer/Analyst
6/91 - 8/91 Continuing Education of the Bar, University of California, Berkeley Software Assistant I
6/88 - 8/88 Chevron Corporation, San Ramon, CA Computer Operator