Axel K. Olmos
Available for assignments near Oakland, CA and surrounding cities.
Sorry, no travel.
axresume@olmosconsulting.com
---
CRITICAL INFORMATION
Technical Director of Linux and Unix with twenty years of hands on experience creating, upgrading, and maintaining networked environments. Skilled with CentOS / Red Hat, performance analysis, Nagios, Perl, DNS, NIS, NFS, automounter, RAID, backup software, mail services, KickStart / JumpStart, etc.

U.C. Berkeley Degreed Computer Engineer, Red Hat Certified Engineer. Expert problem solver.

Excellent written / verbal communication skills. Customer Service personality. Works well in a crisis situation.
U.S. Citizen, born in Berkeley, CA.
OBJECTIVE
A position that uses my engineering and management skills to create technology solutions.
EDUCATION

University of California at Berkeley College of Engineering
B.S. Electrical Engineering and Computer Science
Specialized in Computer Science. Minor in English.

TRAINING COURSES

Red Hat       Red Hat 300 RHCE Rapid Track Course

Sun           Sun OS 4.X to Solaris Transition, Sun Systems Engineer Training, Sun Network Security, Sun Network Administration

Veritas  &nbsp    Volume Manager, Veritas Vxfs, Veritas Performance,Tuning, and Disaster Recovery

Sybase        System 11 Administration, System 11 Performance and Tuning

NeXT          NeXT Step Advanced NetInfo, NeXT Systems Administration

BMC           Patrol 

Holden        Power Base Selling

Cirrus Logic  Behavioral Interviewing

Intersolv     PVCS Version Manager

CERTIFICATION
Red Hat 4.X / 5.X / 6.X Certified Engineer ( RHCE / RHCSA ) #110-553-716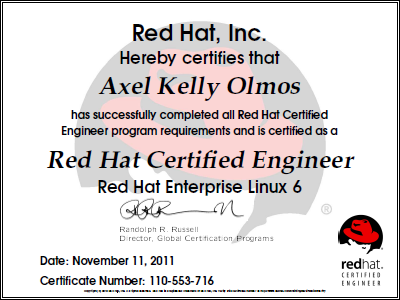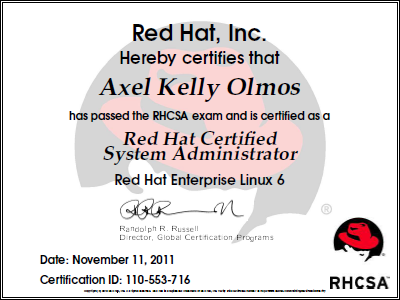 TechieGold Unix Administrator (Solaris) Master Certified #3053185


EXPERIENCE
09/04 - Group One Trading, LP, San Francisco, California
Director of Unix / Linux Systems:
Responsible for all Unix / Linux servers at Group One Trading. Administrator for 155 CentOS / Red Hat AS 5.X, 6.X HP servers and desktops running mission critical options trading software across four datacenters. Authored PumpedUP Open Source cross platform performance monitoring software. Implemented Nagios automated monitoring and paging for all Windows and Linux servers, desktops, network devices, and services. Built custom Hyperdrive SSD hardware, later to be replaced with Fusion I/O. Created Kickstart and JumpStart infrastructure for hands off builds of servers. Implemented backups utilizing custom written software as well as CommVault. Created Squid proxy servers to allow for monitored corporate web access. Automated complex migration of Sun Solaris E4500 Informix DB server to HP Proliant DL580 Red Hat Linux server and solved Informix performance problem which hindered Group One. Migrated Sun Sparc Solaris servers to HP Proliant DL Red Hat/Suse/CentOS servers. Rewrote parts of Korn shell '93 in C on Linux (/bin/ksh) to make it more compatible with Solaris Korn shell. Created Linux Remote Head trading desktops used by traders on the floor with 16 monitors using Active Directory for authentication. Used VMWARE virtual machines where appropriate to reduce our hardware footprint. Hired and trained Jr. staff.
8/04 - 9/04 Finaplex, Inc, San Francisco, California
Senior UNIX Administrator:
Installed Veritas NetBackup. Worked on Sun E4800, Sun 6320. Linux, CVS, Bea WebLogic 8.1, Apache 2.0, OpenSSL.
6/00 - 8/04 Verizon Wireless, Walnut Creek, California
Team Lead UNIX Administrator:
Project Technical Lead responsible for Walnut Creek datacenter. Engineered, installed, and administrated production High Availability (HA) Sun Enterprise servers. Implemented two way short messaging system, followed by a multi-million dollar enterprise wide billing system both on Sun Hardware. Installed, configured, and was responsible for high availability Cisco 6500, Local Director, Sun V120, V210, V240, V440, V480, V880, 220R, 280R, 420R, E3500, E4500, E4800, E6500, L700, SS3510 and Netra T1 hardware. Installed and configured CheckPoint Firewall I. Installed and configured Samba. Worked with Veritas HA Software (VCS). Lead team of 5 other Senior Administrators. Implemented vzwnss.com DNS domain. Recruited, interviewed, and hired Sr. UNIX Administrators for my group. Responsible for 53 production, 24 X 7, mission critical HA servers. In 2003, began administering Red Hat Linux Servers running AS 2.1, AS 3.0, 9.X. Configured kickstart, attached to SAN, configured LVM, Multipath, etc.

11/98 - 6/00 AirTouch Communications, Walnut Creek, California
Senior UNIX Administrator/Technical Lead:
Installed/attached two terabytes of Sun StorEdge 5x00 Disk Array to E4000. Managed 2 TB of Veritas Volume Manager (2.5) disk space. Worked on Solaris 7+8 JumpStart configuration. Involved in planning and implementing 150+ Y2K upgrades for Sun hardware and software. Installed and configured Sun 48 tape DLT Jukebox using Legato Networker Backup software on E450. Created and administered NFS Home Directory server using Solstice DiskSuite 4.2.x. Worked with QIP tool to administer DNS. Created on-site nightly mirror of Sun patch archives including automated scripts to update machines automatically as well as keep JumpStart configurations up to date. Solely responsible for 220 machines, including 60+ servers. Recruited, interviewed, and hired Sr. UNIX Administrators for my group.
Also see 8/97 - 8/98 (Below)

11/98 - 11/98 Charles Schwab, San Francisco, California
Senior UNIX Administrator:
Sun Production Server support in the SFO Cell.

9/98 - 11/98 Barclays Global Investors, San Francisco, California
Senior Systems Administrator:
Created Solaris 2.6 JumpStart server. Architected upgrade of master NIS, DNS, automount, server from Sun OS 4.X to 5.X. Used Veritas/Solstice Enterprise Volume Manager to implement and manage RAID filesystems.

8/97 - 8/98 AirTouch Communications, Walnut Creek, California
Senior Systems Engineer (Senior UNIX Administrator):
Performed upgrade of master NIS, DNS, automount, sendmail, server from Sun OS 4.X to 5.X without interruption of service. Tripled production server reliability. Created Sparc and Intel Solaris 2.6 JumpStart configurations. Installed and configured Lotus Notes client, sudo, pine, elm, jre, jdk, patches. Solely Responsible for 100+ workstations, 10+ servers. Set up dial in and dial out PPP server under Solaris 2.6.

3/97 - 8/97 Providian Bancorp, San Francisco, California
Senior UNIX Administrator:
Architected NIS, NFS, DNS strategies for Unbanked division. Wrote UNIX Socket program in Perl to perform online, real time TRW credit checks. In three months, I had completed a socket based credit checking program with a web based front end that was in
competition with a one million dollar commercial application. Responsible for 20 production servers including Ultra Sparc Enterprise 4000s running Solaris 2.5.1.

11/96 - 2/97 Charles Schwab, San Francisco, California
Change Management / Systems Administrator:
Managed change for heterogeneous three tier environment. Ensured that Netscape Web trading servers were kept running with maximum uptime.

2/96 - 10/96 Industrial Indemnity, San Francisco, California
Central Systems Administrator:
Senior Systems Administrator acting as technical lead for four Systems Administrators. Responsible for administering Sybase, Patrol, DNS, NIS, NetInfo, NFS, PC-NFS Pro, Brixton 3270 gateway. Acted as Systems Architect for enterprise wide DNS, NFS, NIS, Sudo, and backup strategies. Worked with Sun and Intel hardware and software including Windows 95, Windows 3.11, NeXTStep for Intel, Solaris 2.5, and Solaris 2.4. Configured Portmaster networking hardware. Supervised installation and configuration of 700+ workstations and 40 servers, and acted as Central Systems Administrator for those systems.

10/95 - 2/96 Kenetech Windpower, Livermore, California
Senior UNIX Administrator:
Installed and configured NIS+, NFS, FNS, automounter, Jumpstart, Solstice Disk Suite, Solstice Backup, Sparc Storage Array, Sparc 1000. Responsible for UNIX systems administration, design implementation, policies and procedures for Sun, Windows, HP, and SGI workstations. Wrote Bourne, Korn, and C shell scripts.

6/95 - 10/95 Sun Microsystems, San Francisco, California


Systems Engineer:
Responsible for in depth technical knowledge of all Sun and third party hardware and software products. Supported and administered Solstice (On-Line!) Disk Suite 4.0, Solstice Auto-Client, Solstice Backup. Performed customer needs analysis, system design, and quotation support. Sales duties included product research, proposal preparation, presentations and demonstrations, marketing and customer support events. Worked with Sparc Storage Array, Sparc Center 1000 + 2000. Became familiar with Veritas Volume Manager, Failover configurations, Multi-Initiator SCSI, RAID 0-5, etc.

11/94 - 6/95 Charles Schwab, San Francisco, California
Senior UNIX Administrator:
250 node Sun AFS cell, including 60 servers. Expected to support DCE, Dazel, Tivoli, Legato Networker, Market Color, Lotus Notes, AFS/NFS, automounter, firewall, sendmail, NIS, DNS, AIX, HP/UX, Sun OS 4.X and 5.X, TCP/IP and Token Ring. Trained and supervised junior administrators. Worked with Sparc Center 2000, Tape Jukebox, PC's, Windows NT. Front line phone support. Responsible for all UNIX Administration in the Schwab Development cell regardless of platform or configuration.

3/94 - 11/94 Cirrus Logic, Fremont, California
UNIX Administrator:
Administrator for Sun UNIX workstations, Network Appliances Corporation NFS file server, Auspex file server, Solbourne, Sparc Cluster. Set up NIS master, DNS, Solaris 2.4, Legato Networker. Supported 1000 users, 450 workstations, 30 file servers.

6/92 - 3/94 Center for EUV Astrophysics, University of California, Berkeley
Programmer/Analyst:
Systems Administration of Sun/Solbourne UNIX systems.


6/91 - 8/91 Continuing Education of the Bar, University of California, Berkeley
Software Assistant I:
Turbo Pascal Programming.


6/88 - 8/88 Chevron Corporation, San Ramon, CA
Computer Operator:
Computer operations using IBM mainframes and equipment.